Who We Are
The Newtown-Sandy Hook Community Foundation, Inc. is devoted to furthering and supporting operations and activities which address the short-term and long-term unmet needs of individuals and the Newtown community arising from the tragic events at Sandy Hook Elementary School on December 14, 2012. For an overview of the Foundation at a glance please click here – nshcf-one-sheet
Click the heart to learn more about the victims and the programs and organizations established in their memories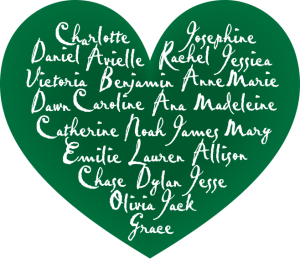 Foundation News & Updates
October 3, 2017- The Foundation released the results of its 4th annual community needs assessment. View report here – 2017 NSHCF Community Assessment Report
June 20, 2017 – The Foundation announced grant recipients for its spring funding cycle – NSHCF PressRelease spring grant awards.
April 27 & 28, 2017 – The Foundation sponsored a training for area clinicians in the Complicated Grief Treatment Model from Columbia University. To learn more about the training please click here NSHCF PressRelease 5-9-2017 CGT.
February 1, 2017 – Please click here for a press release on the latest information related to the Foundation.