Who We Are
The Newtown-Sandy Hook Community Foundation, Inc. is devoted to furthering and supporting operations and activities which address the short-term and long-term unmet needs of individuals and the Newtown community arising from the tragic events at Sandy Hook Elementary School on December 14, 2012. For an overview of the Foundation at a glance please click here – nshcf-one-sheet
Click the heart to learn more about the victims and the programs and organizations established in their memories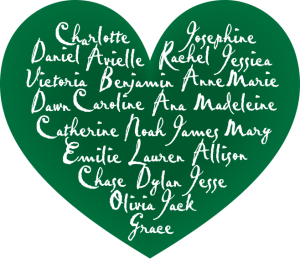 Foundation News & Updates
April 27 & 28, 2017 – The Foundation sponsored a training for area clinicians in the Complicated Grief Treatment Model from Columbia University. To learn more about the training please click here NSHCF PressRelease 5-9-2017 CGT.
February 1, 2017 – Please click here for a press release on the latest information related to the Foundation.
September 14, 2016 -The Foundation released findings from its third annual community survey. To download a copy of the report please click here 2016-nshcf-community-assessment-report
July 14, 2016 – The Foundation is grateful to Booked Parties for supporting us as they make their launch into Fairfield County! For further information please click here Booked Parties Press Release or visit Booked Parties by clicking on their logo below.

December 3, 2015 – The Foundation was a proud sponsor of the 2015 Love Wins Mental Health Conference held on December 3 with Dr. Bruce Perry.  For more information visit www.anagraceproject.org.
Click here for more news and updates
Community Events